I went to town yesterday, mostly to meet people who I had been friends with in school. While we were sat drinking, the conversation turned to the imminent death of Woolworths, who were having their last day of trading.
We decided to set out and have a look, as I had heard rumours of fittings for sale, and thought I might be able to pick up a bargain on an industrial fridge perhaps. No, as it turns out. I was too late and the doors were locked, with the shop looking distinctly raped inside. This isn't it, this is a Stockport one.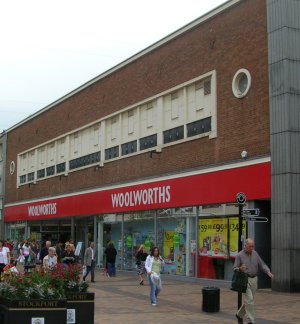 I started to try and remember the last time that I thought I needed to go to Woolworths, and I honestly couldn't remember. On the cheap household goods front, the pound shops, Home Bargains and Wilkinsons all kicked their ass, and considering I'm not a major purchaser of loose sweets and chart CDs, and react badly to glaring strip lighting, its not so surprising that I didn't the frequent the place.
Ahh Zavvi....
Now if any business was on its way out then surely it was Zavvi. The 15 month old chain was created by a management buyout of Richard Branson's Virgin Megastores. A couple of points stay in my mind which must have crossed the minds of some Zavvi employees:
1. Virgin (the company) was originally a business selling recorded music
2. Now Virgin don't see a future in it
3. Probably a good time to get out
Its interesting to note that Zavvi was 'Britain's biggest independent retailer', but alas were helped down by the collapse of Entertainment UK (who provided the bulk of CDs etc) who themselves were part of the Kingfisher Group (the owners of Woolies).
My next prediction based on no financial sense at all, and purely on instinct is British Home Stores.
Again, its pretty much because I never need to go in there, as I'm fine for school shirts and lightbulbs at the moment.*
*I would probably go to the market for lightbulbs actually.